Equipment
The following is a list of the equipment we utilize.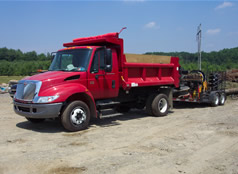 Commercial quality walk behind mowers ranging in size from 21" up to 72"
Commercial quality riding mowers ranging in size from 48" up to 72"
Gas powered string trimmers, back pack bowers and hedge trimmers
Every crew carries powered edgers everyday for touch-up of walkways and drives
23 Lot Sweeping trucks throughout our national affiliates
125 Plow trucks of Various sizes
17 Backhoes with snow pusher boxes
9 Loaders ranging from 2 yd to 5 yd buckets
27 Skidsteers with snow pusher boxes
47 Dump trucks ranging in size from 1 ton with plows to Tri-Axles for removal
All Arlington Lawncare personnel are required to complete a 14 hour training program prior to November 1st. This training includes Videos produced by S.I.M.A. in proper plowing, sidewalk clearing, loader, skidsteer, and salting techniques. We also complete dry run exercises to ensure personnel know where they are to report and what to do upon completion of the route.