Lot Sweeping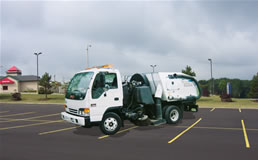 Arlington Lawncare is your one stop contractor for so many of your landscaping needs - our newest service, lot sweeping is yet another service that will help make your business stand out.
As a guest or customer approaches your company or business, they begin to form a first impression. A professionally maintained lot reflects your attention to detail and the pride you take in your property. If you keep the inside of your building clean, shouldn't the exterior be just as presentable?
---
Lot Sweeping Challenge
Look at your sidewalks
Look behind your vending machines
Look by the shopping carts
Look in your dumpster area
Look at your loading docks
Look at where the curb meets the asphalt
Look over your lawn and landscaping
Are these areas clean? If they are, your existing contractor is doing their job. If these ares are not clean, then let Arlington pick-up where they left off.
---
Lot Sweeping Services
Power blowing all sidewalks, including the areas behind vending machines
Cleanup around dumpster areas
Cleanup of loading docks
Hand cleaning of lawn and flower bed areas
Power blowing of curb lines and corners to remove cigarette butts and debris
Power sweeping of all paved surfaces
Portering Services
---
Contact us about caring for your small or large lot today.