Home /
Snow and Ice Management
Snow and Ice Management
Serving all of Erie and Crawford Counties in PA and Chautauqua County, NY.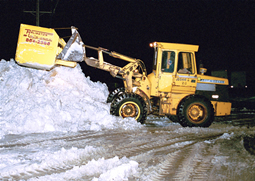 Our customers feel that our Commercial Snow Plowing service is one of the best in the area. Please feel free to obtain a reference list and contact any of them.
We service numerous commercial accounts, some of which you may visit every day.
Our trucks and snow removal equipment are equipped with two way radios, and all of our crew leaders are required to carry cell phones to ensure quick response times day or night.
Starting November 1, or at first snow our office is staffed 24 hours a day by a person, not a machine. This ensures that all of our customer's needs are taken care of as quickly as possible.
Our maintenance garage is 3rd shift staffed for our plowers, so that inevitable breakdowns do not interfere with the clearing of your lot - on time, every time.
We offer three methods of contracting our services: Hourly, Per Time, and Seasonally.
Ice control is accomplished by utilizing both liquid calcium chloride and rock salt - We do not use gas well salt or brine.
Routes are personally checked every time there is weather that possibly could create a problem. This allows you to sleep well and leave the weather to us.
Route managers inspect your property any time there is a threat of snow or ice, with the authority to mobilize any and all of the equipment necessary to ensure your facility is open and ready prior to your staff or deliveries arriving;
We have over 150 plow trucks to ensure that your facility and docks are open on time;
We have 7 sidewalk crews to maintain your entranceways, should you choose;
We have over 20 Loaders and Skidsteers to handle heavy snowfall and/or stacking. They are strategically placed throughout the routes to ensure no backlog occurs;
We have 17 salt vehicles using liquid calcium and rock salt to help you reduce costly slips and falls, or worse yet a workman's compensation claim;
Our phones are staffed 24 hours a day during the winter season to ensure that all calls receive an immediate response.